Grand Rapids was first dubbed Beer City USA in 2012. Since then, its reputation, and the reason for it, has only grown. Experts and readers of USA Today voted Grand Rapids number one on a list of 10 cities with the best beer scenes in 2017 (GR was voted number two in 2018 and 2019 as well).
The good news for meeting planners and conference attendees is that many of the features that earned the city its moniker are also within walking distance from the downtown convention campus, including nine breweries and brewpubs: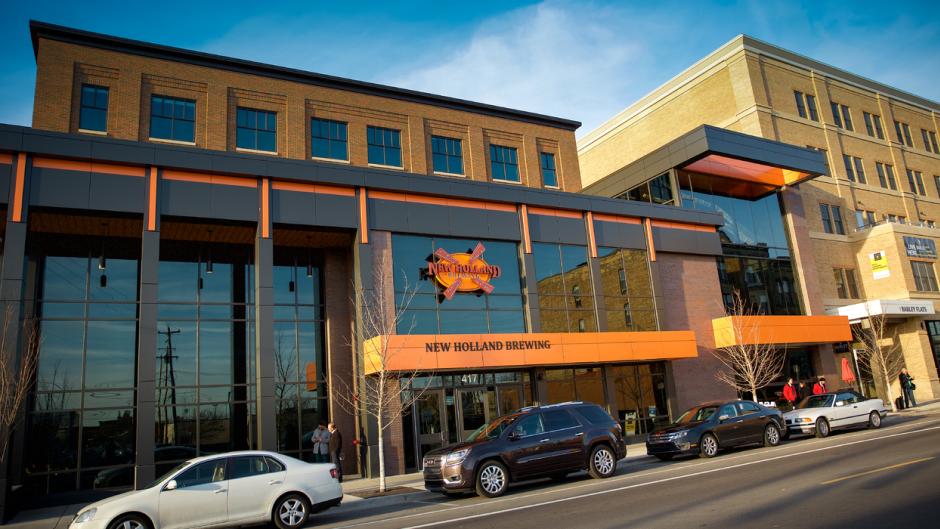 The Knickerbocker, New Holland Brewing's downtown brewpub, is about a 10 minute walk from the convention center.
Photo Credit: Experience Grand Rapids
---
The Breweries
"Grand Rapids is a very walkable city, and because of this, residents and visitors alike can easily walk between a number of locations that brew beer on site, and even get a tour, or three," said Mark Curtis, owner of DrinkGR, a Facebook group for Grand Rapids-area enthusiasts to "virtually" enjoy adult craft beverages that are made locally.
Some of the breweries and brewpubs that allow you to schedule behind-the-scene tours include Founders, Grand Rapids Brewing Co., B.O.B's Brewery and The Knickerbocker. At the very least the establishments have wall-size windows in their taproom allowing you to watch the magic happen while you sample their offerings.
If tasting the beer is more important than the tour, you'll be happy to know that most downtown restaurants and tap houses offer plenty of local brews. Also, Curtis said, many of the breweries and brewpubs offer amazing food options and a few regularly have live music.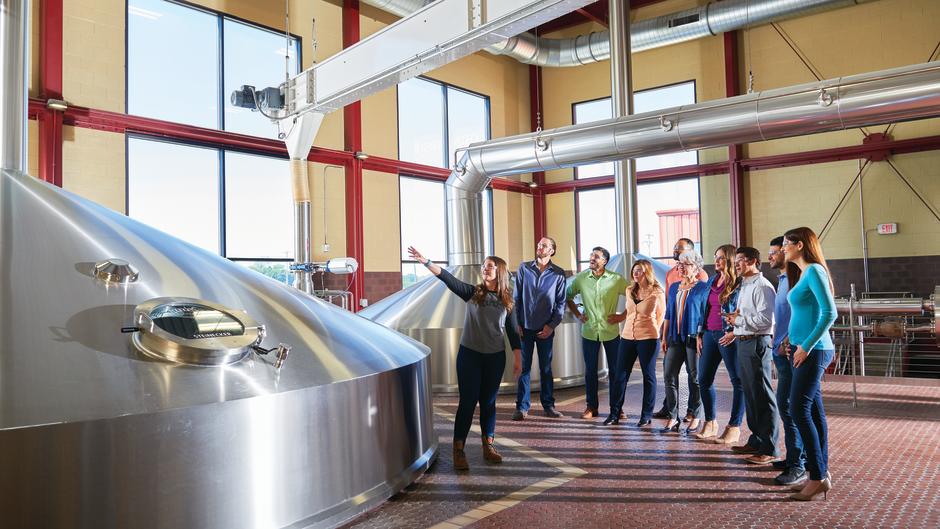 Founders Brewing Co. offers brewery tours for groups.
Photo Credit: Experience Grand Rapids
---
Beer Tours
If you want some help organizing your visits, Grand Rapids Beer Tours, Discovering Michigan Beer Tours and West Michigan Beer Tours can arrange a walking tour for your group, complete with tastings, brewery tours, and a history lesson on the city's beer culture, old and new. Or download a map of the Beer City Ale Trail so you can design your own tour.
Experience Grand Rapids will even reward you for visiting the breweries and brewpubs through the Beer City Passport. Pick up the passport at any participating location, collect stamps from at least eight breweries or brewpubs and turn it in to Experience Grand Rapids or the Welcome Center at the Grand Rapids Art Museum. You will be named an official Brewsader and given a t-shirt to prove it. You can also download the Beer City Brewsader App to document stamps electronically.
Meeting planners can easily organize tours for their attendees or they can arrange to have offsite events at the breweries according to Andie Newcomer, Director of Events for Experience Grand Rapids. Many have private rooms ideal for this purpose.
"Founders is offering programs for groups," Newcomer said. "They are working with one of my clients to do a brewery tour, educational class, and a tasting/pairing event."
Another option, according to Curtis, is to contact Ben Darcie, one of the city's unofficial "beer ambassadors." Darcie is founder of Experience Beer WM and a self-described "beer geek extraordinaire."
"Via his Experience Beer (EXB) consultation business, he can work with your group to put on beer tasting classes, history classes or food pairing classes," Curtis said. "Ben is a versatile and enthusiastic speaker who will engage your group, leaving those in attendance all the more wiser about that wonderful drink we call beer!"
Don't miss a post!
Sign-up for the Meeting Minds Blog