With nearly 80 breweries within an hour of its downtown, Grand Rapids – also referred to as Beer City, USA – is a hotbed for craft beer. From hops to dark stouts, you can always find an interesting new brew to sip in Grand Rapids.
Grand Rapids' craft beer scene gets even better during #BeerMonthGR, which runs from February 15 - March 15! Beer enthusiasts from near and far can "savor the craft" by participating in a variety of beer-related activities, such as celebrating food and beer during Cool Brews. Hot Eats. and attending the annual outdoor Michigan Brewers Guild Winter Beer Festival.
Stay up-to-date with announcements and activities by following Beer Month GR's Facebook page and using #BeerMonthGR across all social media.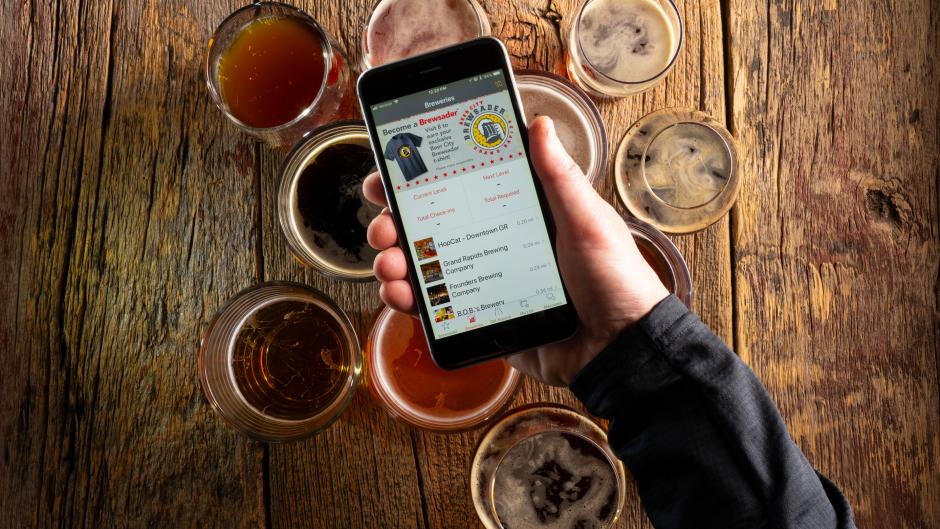 Track your progress toward Brewsader® status with the Beer City Brewsader app.
Photo Credit: Experience Grand Rapids
---
Become a Brewsader®
Beer Month GR is a great way to make progress on your Beer City Brewsader status!
To get started, download our free Beer City Brewsader app from Google Play or the  App store. When you're at a participating brewery, collect your "stamp" by checking in. The staff will give you a password to enter, and the GPS will validate your location. Super easy! It takes eight stamps to become a Beer City Brewsader and 40 stamps to reach Ultimate Brewsader status.
If you become a Brewsader during Beer Month GR, you'll earn limited-time gifts, including a Brewsader magnet bottle opener and a Brewsader decal sticker. All of this is in addition to the awesome Brewsader T-shirt you earn for becoming a Brewsader any time of year! Bonus: if you claim your Brewsader tee at the GRAM, you'll get a coupon good for discounts at LaughFest central.
This year, all Brewsaders -- or anyone who shows their app -- will receive $1 off their first pint of beer at participating breweries on Friday, February 21, also known as the Night Before Beerfest.
For even more perks, become an Ultimate Brewsader during Beer Month GR to enjoy deals and discounts from area businesses all year long, like $3 off growler refills at Rockford Brewing Company or buy-one, get-one-free admission to TreeRunner Grand Rapids Adventure Park.
If you're already a Brewsader and would like to move your passport stamps into the app, we've made it easy to switch. When you download the app, go to the brewery and hit "check in." You'll see an option to "transfer stamps." Simply upload a photo of your paper stamp from that brewery for approval and you'll be on your way. Note that approvals can take one to three business days, so be sure to plan ahead on your Brewsade®!
Check out our Beer City Brewsader website for more information, or to join the fun!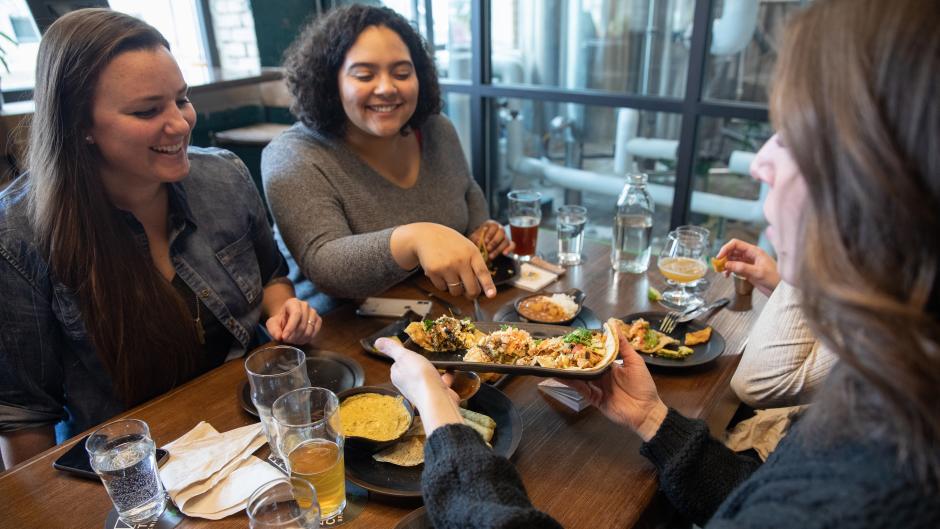 Many of Grand Rapids' breweries offers excellent food menus to pair with craft beer.
Photo Credit: Experience Grand Rapids
---
Cool Brews. Hot Eats.
Not to be outdone by our Beer City moniker, our excellent restaurants have earned Grand Rapids the designation of Best Food City in Michigan! You can experience the delight of both brews and eats during the 8th annual Cool Brews. Hot Eats. (CBHE) event, which runs concurrently with Beer Month GR.
CBHE is an annual celebration of unique food and beer pairings that highlights what's happening in the kitchen as well as what's on tap. Chefs around the city serve award-winning food all year long and Beer Month GR is a fun time to try new venues.
Lots of breweries, like Creston Brewery and City Built Brewing Company, have games you can play, in addition to great food and beer, and almost all of them are family-friendly. Both have board games, but the Ring game at Creston Brewery is especially fun as everyone in the group tries to swing a ring, attached to the end of a long string, onto the hook on the wall. It's harder than it sounds!
Take your crew to try something new from the mouthwatering menus, while you savor the craft at a few of the 30+ participating restaurants. Check out the Cool Brews. Hot Eats. website to see the menus at participating locations.
Fun fact: Many CBHE food pairings use local craft beer as a main ingredient!
Sounds of Beer City
What goes better with great beer than great music? Grand Rapids' venues have plenty of live music year-round and Beer Month is an excellent time to enjoy your favorites or check out something new. To that end, we've curated a list of live music happening in breweries around Grand Rapids during Beer Month.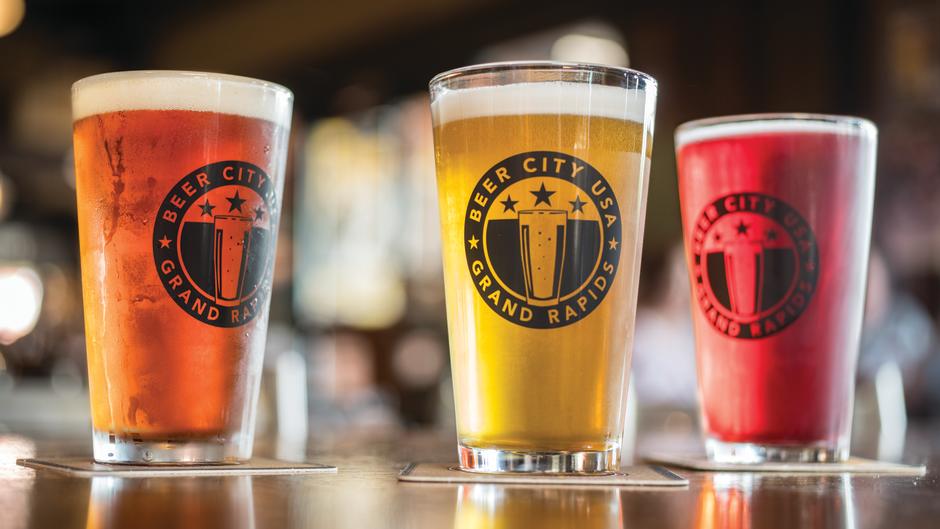 Attention Brewsaders! Participating breweries are offering discounts the night before Winter Beer Fest.
Photo Credit: Use Information: For Experience Grand Rapids
---
Winter Beer Festival (February 22)
Back for its 15th year, the highly anticipated Winter Beer Festival will take place at Fifth Third Ballpark on Saturday, February 22, from 1 PM – 6 PM. Tickets are $55 and the event often sells out, so consider purchasing a ticket in advance. If you're attending as a designated driver, those tickets are just $5 each.
 
A huge highlight of this year's Winter Beer Festival includes the opportunity to choose samples from more than 1,000 craft beers brewed by more than 140 breweries. Your ticket includes 15 tasting tokens that can be traded in for the beers of your choice (Note: many beer samples require 1 token but some require 2.)
 
Sip and sample while you enjoy local musicians and ice sculpture demos, or simply relax by the firepits.
Again this year, Winter Beer Festival guests staying at participating hotel properties will receive a $20 Uber code. One Uber code is provided per guest room, to transport you to and from the Festival! More details on participating hotels are available on the "Getting to Winter Beer Fest" web page.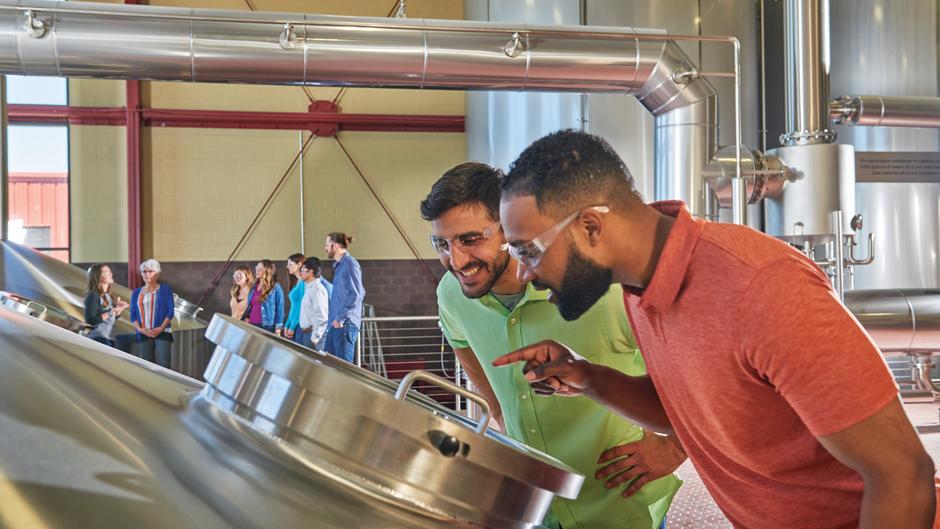 Go behind the scenes at local breweries and see how your favorite craft beers come together.
Photo Credit: Experience Grand Rapids
---
Fun Beer-Related Activities
There are a variety of fun and interesting beer-related activities in Grand Rapids also available year-round. Here are a few ideas to get you started! Check out the Grand Rapids Beer Events page on our website for more information and details.
Brew and Renew Spa Package
Relax at JW Marriott's luxurious JW Spa with a 50-minute Brew Pedicure! The pedicure scrub contains hops and barley and the experience includes a beer for you to sip while you unwind. Or, try the 80-minute Brew Polish & Massage that includes a beer-inspired body scrub, an aromatherapy massage, and a gift card to enjoy one beer of your choice.
Brewery Tours
Take a peek behind the scenes at your favorite local breweries. Many Grand Rapids breweries have set times for tours or will schedule them upon request.
MoKAYA
Try something new and delicious at MoKAYA, an artisan chocolatier that makes beer-infused chocolates and other confections. MoKAYA's chocolates are infused with beers from local brewers like Founders Brewing Company, Brewery Vivant, The Mitten Brewing Company, Grand Rapids Brewing Company, and Elk Brewing.
Design-Your-Own Pub Crawl
If your family, friends, or co-workers are interested in visiting several of our award-winning local breweries, you can hire Beer City Runner for just $20 per person to take you to the breweries of your choice. No parking and no walking in the cold! Just enjoy your day or evening and local craft beer.
Craft Beer Cellar
Visit Craft Beer Cellar to attend fun classes and events, like Navigate Brew's Tuesday Tastings. Recent classes include "Best Beers of 2019" and "Barrel Aged Stouts & Porters." Class days and times vary—check Craft Beer Cellar's Facebook Page and Experience Grand Rapids Beer Events Page for information. Wednesday nights are also a great time to check them out during Kick the Keg Wednesdays, when they offer at least 6 draft options at half price.
Beer City USA Hotel Packages
To help you make the most of your stay during Beer Month GR, a wide range of hotels offer diverse Hotel Beer Packages with room discounts and tickets to local hotspots.
Don't forget that when you stay at participating hotels, you can receive a $20 Uber code.
For an in-depth behind the scenes look at Grand Rapids' delicious brews, check out Beer & Brewery Tour options.
Beer City Ale Trail
As you navigate the more than 80 breweries, plus cideries, meaderies, and distilleries, our Beer City Ale Trail will come in handy. This map is the perfect way to plan when to check out local hotspots, and where they are located. For guided tours, check out guided Beer & Brewery Tours options.
We hope you safely enjoy Beer Month GR and Cool Brews. Hot Eats. Be sure to let us know about your favorite experiences.
Don't miss a post!
Sign-up for the Insider Experience blog