Retail shops are now open at no more than 30% capacity throughout Michigan, and while many of us are itching to visit our favorite boutiques, there may also be some lingering questions about how to stay safe and adjusting to the "new normal" of shopping amid the COVID-19 pandemic.
We've put together a list of local shops and their updated health policies, hours, and events, so you can confidently head out for some retail therapy while supporting local businesses. To combat the spread of the virus, the Michigan Department of Health and Human Services has required the use face masks and coverings in order to enter a store. For other health and safety guidelines, be sure to check out our Travel Updates & Openings page for the most up-to-date information.
This is nowhere near an extensive list of shops in Grand Rapids, so be sure to tune into our Support Area Shops page to learn more. Please support small businesses in Grand Rapids today!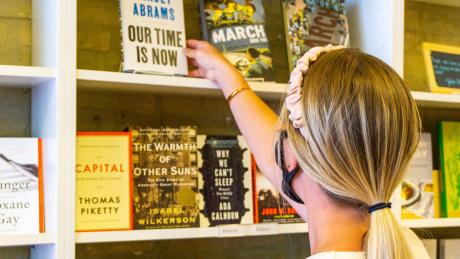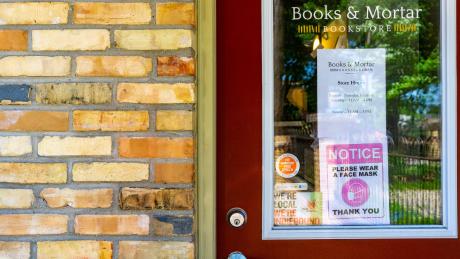 Books & Mortar is open for in-person shopping. Remember to wear a mask and socially distance!
Photo Credit: Brian Craig for Experience Grand Rapids
---
Books
Several area book stores are offering online ordering and in-person shopping. 
Books & Mortar, a self-proclaimed "Proudly Progressive, Consciously Curated, and Fiercely Independent Neighborhood Bookstore," is now open for in-person shopping in Grand Rapids' Uptown neighborhood. Books & Mortar's current hours are Tuesday 11 AM- 6 PM, Thursday-Saturday 11 AM - 4 PM, and Sunday 11 AM-3 PM. Per state requirements, they're asking customers to wear a mask in the store and adhere to 6 feet of social distance while they shop. They are also allowing a total of 10 customers in the store at all times.
The bookshop is also offering direct-to-home delivery for $2. Just place your order by emailing the story. Books & Mortar has also added an online store featuring a curated list of the shop's favorite reads. 
Argos Book Shop, Grand Rapids' largest, oldest book store, is also back open. They're requiring face masks and limiting store capacity to eight customers at a time. Employees will wear masks and frequently disinfect commonly touched surfaces. Their hours are Monday, Tuesday, Thursday, and Friday: 10:30 AM-6 PM, Wednesday and Saturday: 10 AM-6 PM, and Sunday: Noon-3 PM.
Vault of Midnight, a downtown comic book shop, is open every day from 11 AM-8 PM for in-person shopping, as well as curbside pickup and mail orders. The store is keeping the number of customers in the shop to eight.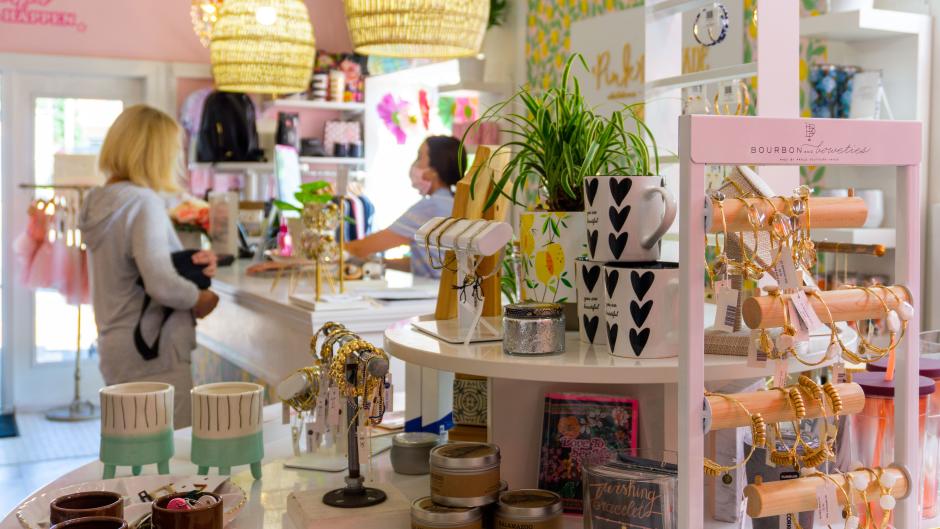 Pink Lemonade staff is wearing face masks at all times. Online shopping is also still available.
Photo Credit: Brian Craig for Experience Grand Rapids
---
Clothing & Boutiques
Pink Lemonade offers adorable children's clothing and toys, accessories, clothing for mamas, home goods, and more and is now open with no appointments needed. The Grand Rapids location's hours are Monday-Saturday: 10 AM-6 PM, Sunday: 11 AM-4 PM. Online shopping is also still available. Grand Haven and Kalamazoo locations' hours and other updates are available on Pink Lemonade's social media. 
Lee & Birch has opened all four of its West Michigan locations from 11 AM-6 PM Monday-Saturday and Noon-2 PM on Sunday. The store maintains a seven customer limit in the shop. Lee & Birch is asking customers to wear a face mask (they happen to sell a variety of reusable masks with trendy prints), and to maintain 6 feet of social distance while shopping. Its employees are maintaining social distancing, temperature checks, and wearing face masks as well. 
For customers who prefer to shop alone or from the comfort of their own home, appointments can be made to shop before or after operating hours and online ordering is available.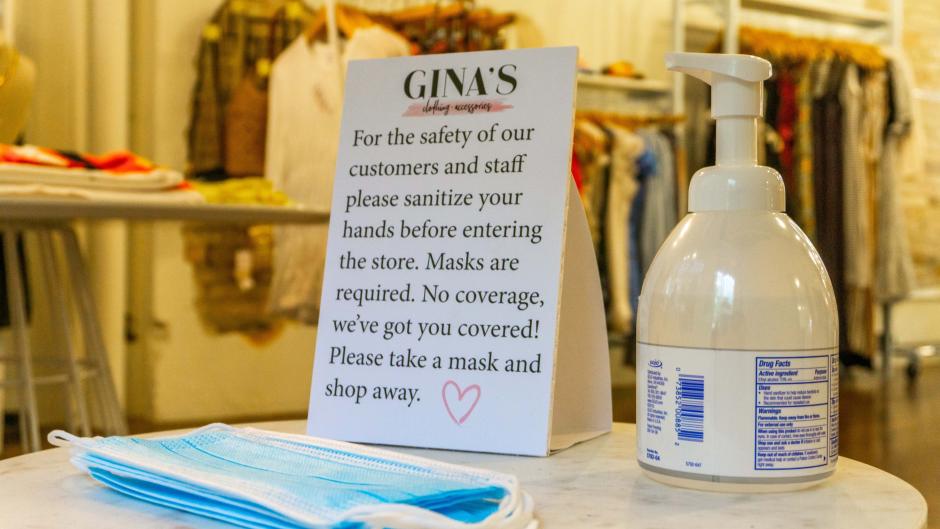 Like many local shops, Gina's Boutique offers masks to customers along with hand sanitizer throughout the store.
Photo Credit: Brian Craig for Experience Grand Rapids
---
Gina's Boutique relocated its downtown shop to Ada. Masks are required but if customers don't have one, the shop "has you covered" with a free mask and hand sanitization stations throughout. Gina's is still offering online shopping and has a location in Saugatuck.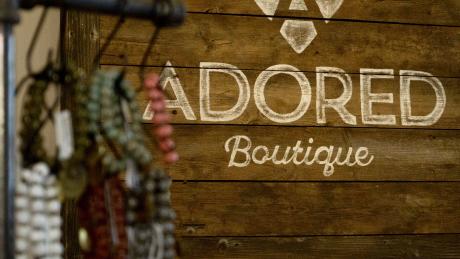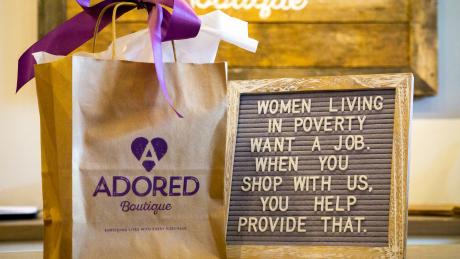 You can shop in-person, online, or schedule a personal shopping experience at Adored Boutique.
Photo Credit: Brian Craig for Experience Grand Rapids
---
Adored Boutique, which focuses on fair fashion and gives back 15% of profits to nonprofit organizations, is also open for in-store shopping Tuesday-Friday 11 AM-5 PM, Saturday 10 AM-5 PM, and Sunday Noon-3 PM. For customers who are higher risk who still want to shop in-store, Adored is offering four one-hour personal sessions each week. Sessions are available in-store or through Zoom. You can schedule a personal shopping experience or shop online at Adored Boutique's website.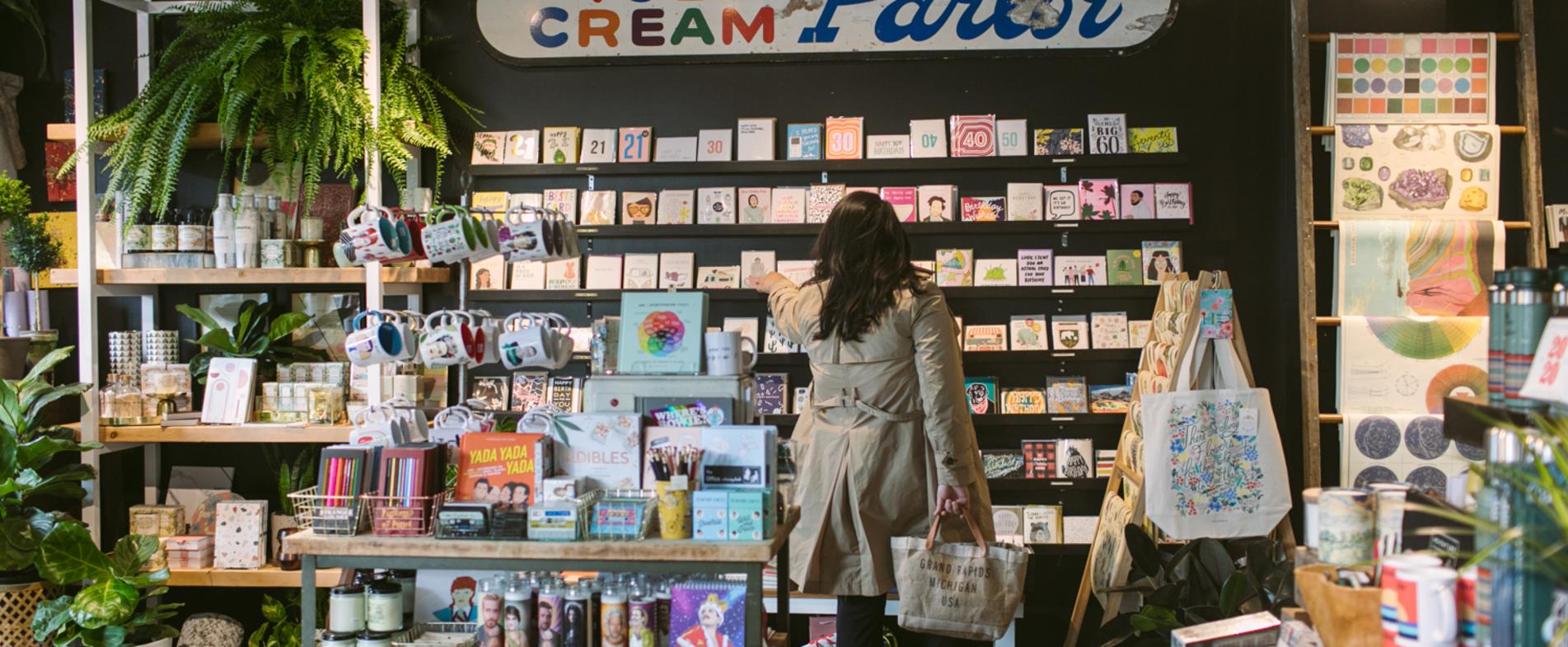 Rebel has hand sanitization stations throughout the store.
Photo Credit: Experience Grand Rapids
Gifts & Outdoor
Find tons of handmade gifts, plants, jewelry, occasion cards, and so much more at Rebel in the Uptown neighborhood. Rebel's new hours for in-person shopping are Wednesday-Saturday: 11 AM-6 PM, and Sunday: 11 AM - 4 PM. 
The shop is limiting its capacity to 15 people or fewer, including staff, and asking shoppers to practice social distancing and limit groups to two. Customers must wear a mask or face covering, and if you don't have one, Rebel can provide one. Rebel's staff will also be wearing masks at all times and will be temperature screening before every shift and sanitizing high traffic areas. 
Contactless pay options are available, and Rebel is not accepting cash or accepting returns at this time. Rebel's sister store, Commune, is also back open. Find adorable home goods to match your style on Wednesday-Saturday: 11 AM-6 PM and Sundays: 11 AM-4 PM.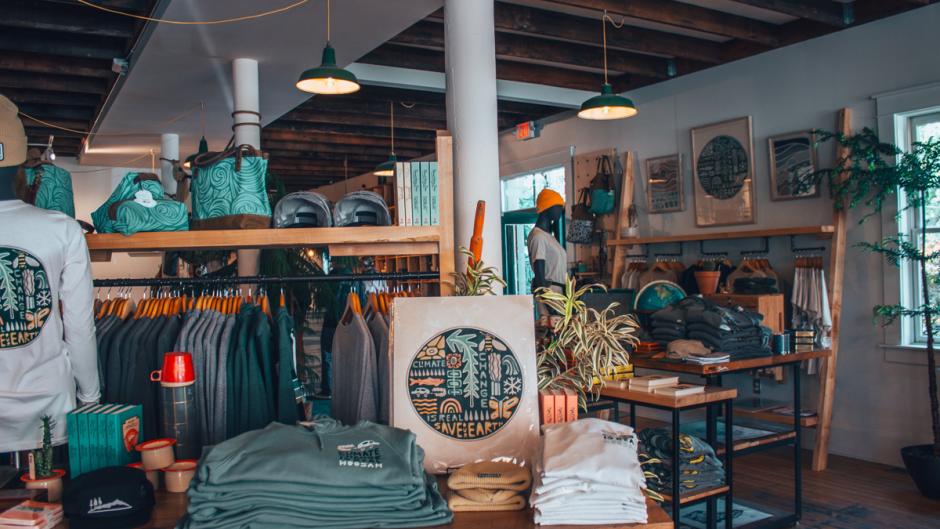 Woosah is allowing six people in the shop at a time and asking guests to enter through the garden entrance.
Photo Credit: Ashley Hubbard
---
Woosah, which offers handmade art, accessories, and clothing for outdoor enthusiasts, is open 11 AM-7 PM every day. Woosah is allowing six people in the shop at once and asking that customers enter through the garden door, which is connected to Outside Coffee Co. Staff is sanitizing highly touched surfaces at regular intervals, and contactless pay is preferred. Woosah is still offering online orders, which customers can pick up at the store. 
The Plant Parlor in Uptown is open Tuesday-Friday and Sunday from Noon-5 PM and Noon-7 PM on Saturday. There is an eight-person limit, and The Plant Parlor is using a sign out front to let people know if they're at capacity (red) or if there are less than eight people in the shop (green). They've also placed 6-foot spacers on the floor and added hand sanitizer and a hand-washing sink for customers to use. 
For those uncomfortable with in-person shopping, The Plant Parlor has a selection of plants on its website, all of which are available for curbside pickup. If you see something you want that's not on the website you can call, text, or DM to purchase!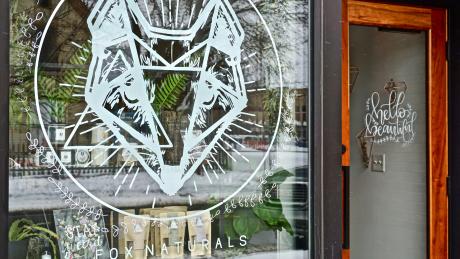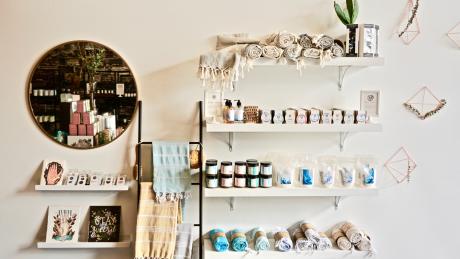 Be sure to wear a mask while shopping for natural, sustainable cosmetics at Fox Naturals.
Photo Credit: Experience Grand Rapids
---
Beauty
For those looking for natural, sustainable personal care and beauty products, check out Fox Naturals. Store hours are currently Tuesday-Saturday: 11 AM-6 PM. In addition to wearing a mask while shopping, and Fox Naturals asks shoppers to refrain from coming in if they're feeling sick or unwell.
LORDE Beauty and Cosmetics is another cosmetic shop open for in-person shopping. LORDE's hours are Tuesday-Saturday: 10 AM-2 PM and Sunday: 10 AM-1 PM. The shop posted that in-store, curbside, and online ordering are always available "to empower you in your beauty and meet you where you are comfortable."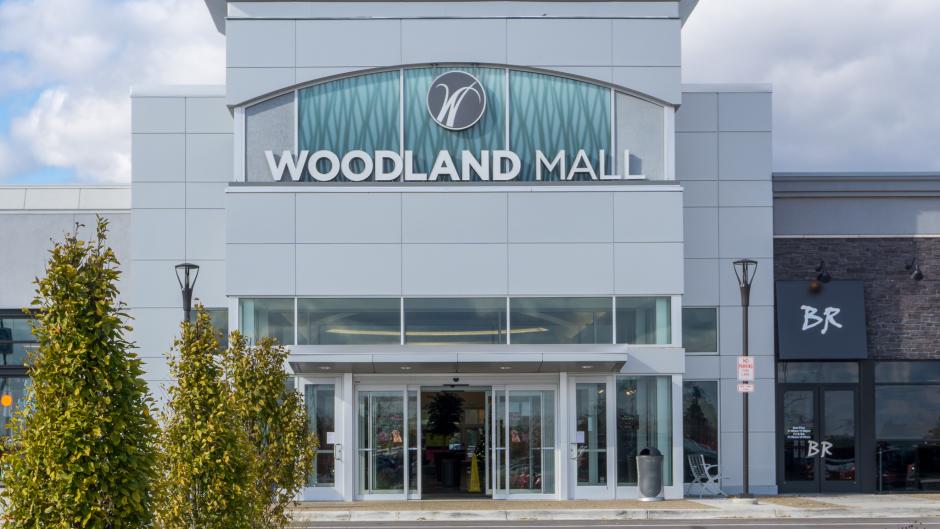 Many local malls and outdoor shopping centers are also reopening with new health policies.
Photo Credit: Brian Craig for Experience Grand Rapids
---
Outlets & Malls
Looking for even more retail therapy? Both the Woodland Mall in Grand Rapids and Rivertown Crossings in Grandville are open. You can find everything you need to know about shopping safely and which stores offer curbside pickup on their respective websites. 
Outdoor shopping centers and areas are also opening, like Tanger Outlets in Byron Center, where many stores have ropened. Tanger is offering masks at the Shopper Services area. 
Shops at CenterPoint is also open. Check each store's website for their hours of operation.
Breton Village Shopping Center has many of its shops and restaurants reopen, including the opening of Duffield Lane's newest location. 
Gaslight Village in East Grand Rapids is another outdoor shopping area full of local shops to peruse. Shops and restaurants throughout Gaslight Village are reducing capacity and asking customers to wear masks and social distance. 
This is nowhere near exhaustive, so check out more local shops on EXGR's Support Area Shops page. And be sure to double-check shops' social media or websites for changes to hours and health policies. 
Hours and operations at each shop is subject to change, so be sure to check individual store's websites, social medial, or give them a call before visiting. 
What local shops are you visiting in-person? Let us know in the comments below!
Don't miss a post!
Sign-up for the Insider's Experience blog