While sheltering at home you can still enjoy some of the area's finest crafted cocktails. Local distilleries are making thirsty Grand Rapidians happy by providing alcohol to go services.
In addition to bottled whiskey, rum, bourbon and other craft spirits, some distilleries are offering cocktail kits to go – complete with fresh ingredients, garnishes and instructions on how to make your own delectable mixed drinks at home.
Distilleries are also making their own hand sanitizer to supply local health and safety workers, with enough left over to offer to customers on a takeout basis. This is a great way to obtain an essential health protection while supporting local businesses.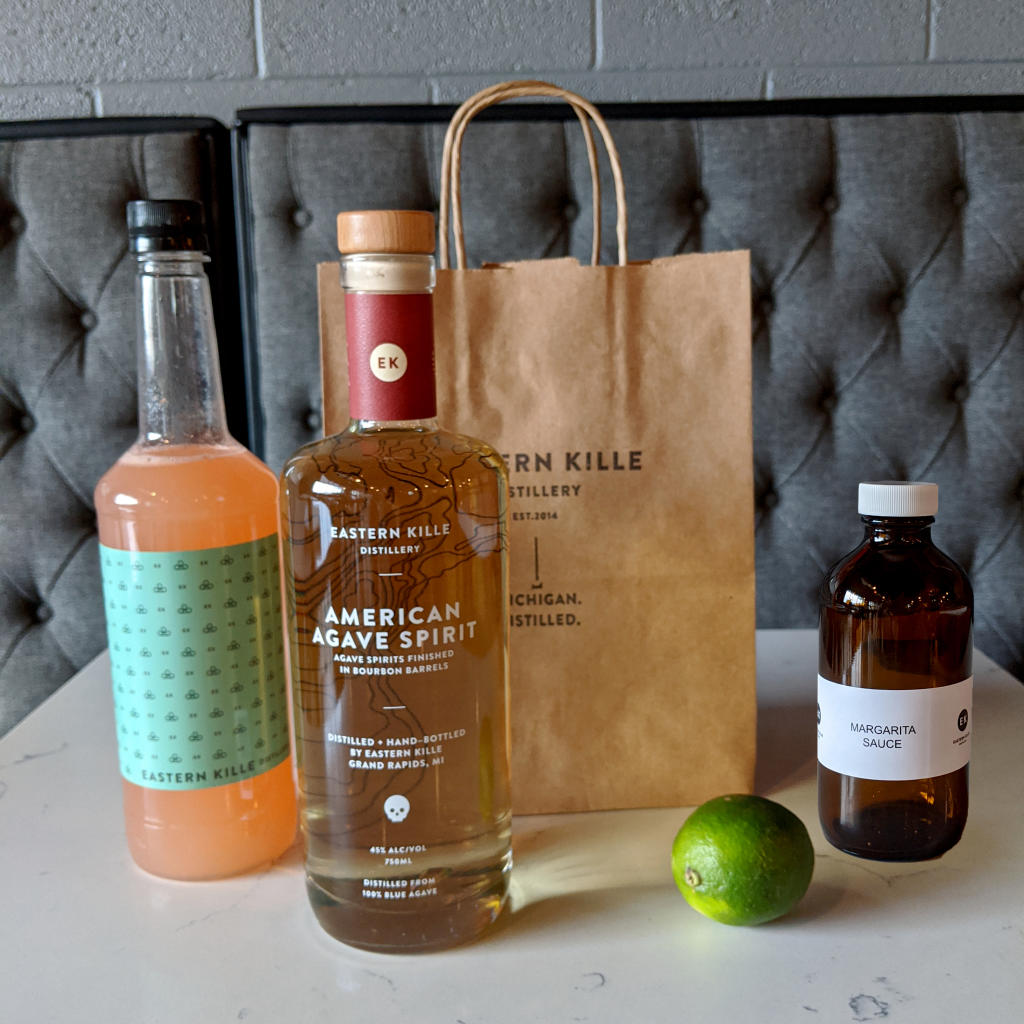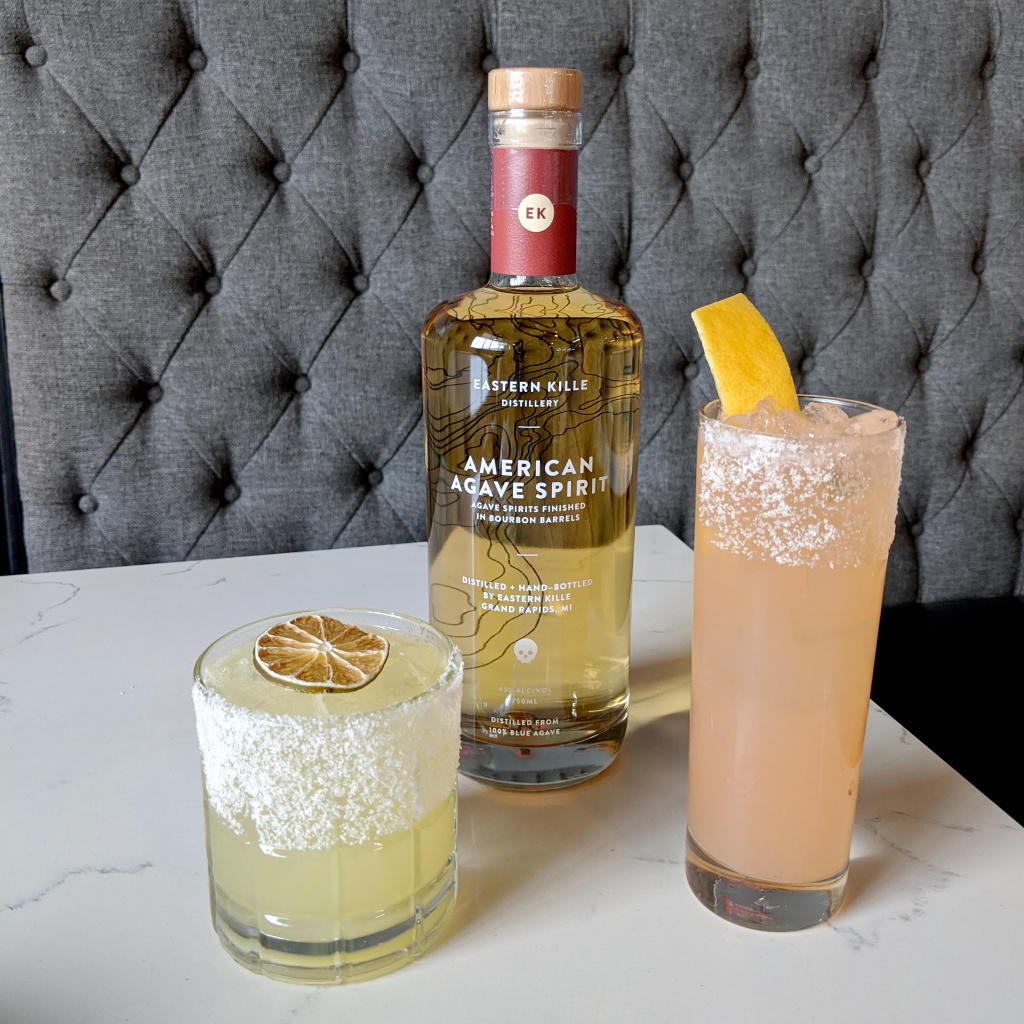 Cocktails To-Go are ready for pick-up!
Photo Credit: Eastern Kille Distillery
---
Here is a list of area distilleries offering takeout service. Menus and hours may change, so check individual websites for the most current information—and for phone and online order details.
Bier Distillery. Order online for to-go spirits and cocktail kits as well as beer, wine, food and house-made hand sanitizer – then pick up your order at their Comstock Park location from 3 PM-8 PM Monday-Thursday, 3 PM-9 PM Friday-Saturday, and Noon-6 PM Sunday.
Eastern Kille Distillery. Offers authentically crafted spirits and an assortment of cocktail kits for walk-in sales or curbside pickup from 2 PM-6 PM Tuesday-Saturday.
Long Road Distillers. A broad menu of house-crafted spirits, cocktail kits, mixers, beer, food and hand sanitizer is available for online ordering and pickup between 3 PM-6 PM Wednesday-Thursday; 3 PM-7 PM Friday, and Noon-5 PM Saturday.
Michigan Moonshine. This Grandville distillery is open for takeout bottle sales and cocktails to go from 4 PM-7 PM Tuesday-Friday and 2 PM-7 PM Saturday. Hand sanitizer is also available while supplies last every day.
New Holland Brewing - The Knickerbocker. (Temporarily Closed) Hop online to order spirits, cocktail buckets full of drink fixings and hand sanitizer, then pick it up curbside at this distillery's Bridge Street location. The Knickerbocker also offers a wide selection of food and beer for pickup. 
Thornapple Brewing Brewing Company. Canned house-made cocktails to-go. 3 PM-8 PM Tuesday-Thursday; 11:30 AM-9 PM Friday-Saturday; and 11:30 AM-8 PM Sunday.
Wise Men Distillery. Bottled spirits, seltzers and cocktails to-go are available for walk-in sales or curbside pickup from 9 AM-4 PM daily.
Restaurants Offering Cocktails for Takeout
Some local restaurants are offering cocktails for takeout and/or delivery. The restaurants below are just a few examples, and you can search our Restaurants page to find more ideas.
José Babushka's. This East Grand Rapids eatery is offering its house-made margaritas for takeout service, along with food, family-style dinner specials, bottled beer and wine by the bottle. Stop in from 5 PM-8 PM Monday-Saturday.
Luna. Classic margarita and prickly pear margarita mixes are available to go in addition to margaritas with alcohol and other cocktails. Pair these with tacos, quesadillas and other Latin American favorites on Luna's takeout, delivery and curbside service menus. Open 4 PM-8 PM Monday-Friday; Noon-8 PM Saturday-Sunday.
Max's South Seas Hideaway. Max's Tiki bar and restaurant provides canned cocktails to go in addition to wine, food and non-alcoholic beverages for takeout or delivery. Open 3 PM-9 PM Wednesday-Sunday.
SpeakEZ Lounge. Takeout selections include their freshly-made cocktails in addition to beer, wine and food. Call for pickup or curbside service, or engage a third-party delivery service from Noon-8 PM Monday-Friday and 2:30 PM-8 PM Saturday.
Please keep yourself and distillery/restaurant employees as safe as possible when you pick up orders – wear a mask and maintain a healthy social distance, especially if you will be exiting your vehicle.
If you're in the mood for some great craft beer, check our list of Grand Rapids Breweries Offering Beer Takeout for beer to go and beer delivery service. If you want to enjoy dining out, several Grand Rapids-area restaurants, breweries, distilleries and more have made available heated outdoor dining spaces.
Never miss a post!
Subscribe to the Insider Experience Blog